If you haven't realized yet, it's Sports Season! With exciting events happening like the FIFA World Cup in Brazil and the Caribbean Premier League (CPL) matches in St. Kitts in August, the Caribbean is a buzz with sporting fever. That's why we thought it fitting to feature in this week's eCaribbean Spotlight, SportsXplorer, a Jamaican sports news brand with a 25K+ following.
We tracked down Co-founder and CEO, Jermaine Wright for a quick chat and to learn about their plans for World Cup coverage.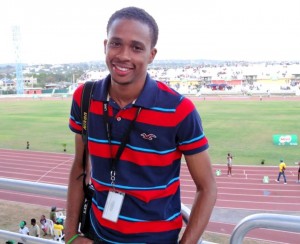 Here's how it went:
How old are you and what's your background/experience in tech entrepreneurship so far? 
I am 33 years old. This is my second multimedia sports company and first as founder and Chief Executive Officer. My first fore in the business world was in 2007.
What sets SportsXplorer apart from other sports news sites?
Our high standards, high quality production, unique and professional style of coverage, detailed dissemination of information and our vision of elevating Caribbean sports coverage to world class standards.
Why sports?
The choice of sports is organic as most successfully game changing tech businesses are. All members of the team including myself are huge sports fans first. I have been since the tender age of eight years old. Plus sports is big business, it touches the pulse of the people and as the late great Nelson Mandela said "Sports has the power to change the world, it has the power to unite people in a way that little else does."
What's the response been like so far from your fans, followers etc?
It has been very good and receptive. They appreciate our quality, style and professionalism. They have embraced our fresh, modern approach to sports coverage.
What are some of the biggest challenges so far and how have you coped/are coping with them? 
The biggest challenge so far is the typical one that plagues startups in the Caribbean – lack of capital. That problem has led to a domino effect of other problems such as a lack of sufficient equipment, other resources, manpower, which has severely crippled our operations and efforts for growth and efficiency. But outside of that there is a bit of insular objection where some 'powers that be' in the sporting industry are not that accommodating to a set of young men from regular backgrounds trying to revolutionize the sports media industry with our ambitious goals to change the landscape of sports coverage in Jamaica. Also there is very little support for young entrepreneurs in Jamaica. Unfortunately Jamaica does not have a culture of supporting things or people at the early stages no matter how promising it seems.
 It has been very difficult but I am fully aware that nothing that is worthwhile will come easy and I fully understand that success is often not brilliance but perseverance. Plus the passion and love for what I do and the stubborn determination of wanting badly to succeed pushes me to rise above all the obstacles,  which brings more truth to the late great Steve Jobs philosophy of "do what you love"
Tell us a bit about the team structure and dynamic.
We have a team of primarily three right now. We have been friends for 20 years and went to the same high school together (Calabar High). We are all sports fans with a natural passion for sports and believe in the potential of the brand. We are a group that are not necessarily experts at certain tasks but find a way to get the job done despite all the deterrents. As the leader of the team I have a hand in every aspect of the company's operation.
How do you cover major regional sports events? Do you fly to the games or do you have correspondents?
We are mostly focused on events in Jamaica for now. But we have covered events across the region as well as other countries in the world through our overseas arm (photos and videos). However, we flew to Trinidad just last week to cover the Guinness Street Football Regional Finals.
Have you done any major collaborations with sponsors?
Yes we have. Since this year we have collaborated with corporate giants GracKennedy Group and LIMEJamaica. We were the official media partner for title sponsors GraceKennedy at the prestigious ISSA/GraceKennedy Boys and Girls Athletics Championships. We were also contracted by LIMEJamaica to provide coverage of the same event as well as the inaugural LIME Street Football Challenge competition held from March – May 2014.
Any plans to expand in the near future? What would SportsXplorer look like in 5 years?
Yes we are currently expanding now, slowly but surely. Our ultimate objective is to become the ESPN of the Caribbean. So although it is quite a tall order, five years from now there should be at least some semblance of that goal manifesting.
It's World Cup time! How are you guys covering the games?
Mostly via Social media.
Finally, what's your side and why? 
My teams are Spain and Holland as usual. I am a contrarian so for the last four World Cups I have carried the so called 'perennial losers' which paid off for me big time at the last World Cup where both of them made the final and my number 1 team won. Yeaaah me lol
LINKS
https://www.facebook.com/SportsXplorer
https://www.youtube.com/sportsxplorer